"These actions have placed vulnerable people in dangerous situations, thereby violating the Charter of Rights and Freedoms and undermining their fundamental human rights"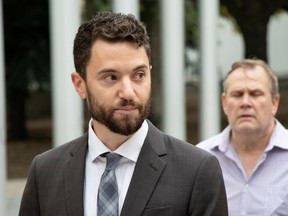 Article content
The Coalition for Justice and Human Rights (CJHR) has initiated legal action against the City of Edmonton, saying the city's continual displacement of individuals in encampments has placed vulnerable communities in dangerous situations.
The announcement came Thursday morning in a news release from Engel Law Office and Nanda and Company, who will represent the CJHR. The release said the city, despite being aware of the lack of housing and shelters, has continued on with displacing those residing in encampments with "no reasonable solution."
The suit alleges that these actions have placed vulnerable people in dangerous situations, thereby violating the Charter of Rights and Freedoms and undermining their fundamental human rights.
Chris Wiebe, a lawyer from Engel Law Office who acts as co-counsel for CJHR, told reporters on Thursday morning in front of city hall that although the coalition recognized the efforts made by the City of Edmonton towards increasing the number of shelter spaces, the claim is about the lack of progress being made.
"This claim is about (the city) continuing to displace encampments despite knowing that their efforts haven't borne fruit and the shelter space is still inadequate in the city of Edmonton," said Wiebe.
Article content
Edmonton removes 1,103 encampments as complaints jump by 61 per cent

Edmonton cuts back on enforcement at homeless camps: operating budget
"During encampment displacements city employees seize displaced people's propane tanks and stoves and any property that displaced people are unable to pack or are not around to claim. The result is that the city often takes essential items from the poorest people in our city, including their sources of warmth, their bikes, their ID, which are necessary to get housing and income, their phones and even their tents or tent poles."
According to Wiebe, under the Canadian Charter of Rights and Freedoms, unhoused people have the same rights as anyone, including the rights to personal property. The legal action aims to protect those rights and to either stop or restrict the city's encampment displacement policy.
The coalition is seeking several declarations from the court including a permanent injunction that would direct the city to stop displacing encampments from city-owned land when the number of unhoused people in Edmonton is higher than the number of available shelter beds.
'Beyond the capacity of the city to solve alone'
Mayor Amarjeet Sohi said in an emailed statement to Postmedia that due to the case being in front of the courts he cannot comment on the details. He said the city is taking the issue "very seriously" and said since taking office he has been calling for help due to the unprecedented level of houselessness he said is "beyond the capacity of the city to solve alone."
Article content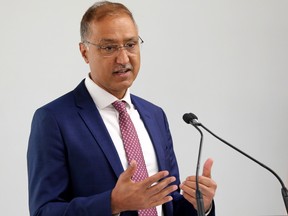 Article content
"Houselessness is a symptom of under investments in the social sector for far too long. I understand that encampments can impose safety hazards for those living in them and the communities that are impacted by encampments," said Sohi. 
"When an encampment is removed, efforts are made to connect people to appropriate supports available in the community. The safety and wellbeing of all Edmontonians, including our city's most vulnerable who seek shelter in encampments, remains a top priority for me."
Michelle Plouffe, chief people officer and solicitor with the City of Edmonton, said in a statement that the city has acknowledged the legal actions being taken. She said they are currently reviewing the documents provided and are preparing to defend the city's "balanced approach."
"The city is carefully reviewing the documents provided and is preparing to discuss its bylaws, practices, and commitments in court.  While we will not debate the legal elements of the case outside the courtroom, we will simply say that we are preparing to vigorously defend the city's balanced approach to keeping people safe while working with our partners to seek long-term solutions to ending houselessness in Edmonton," said Plouffe.
According to Homeward Trust Edmonton's By-Name List, there are 3,137 unhoused individuals in the city as of August 2023. Of them, 1,380 lack housing. There are 843 emergency shelter beds available in Edmonton as of August 2023.
Between 55 and 60 per cent of unhoused individuals are Indigenous and many of them may have suffered personal or intergenerational trauma.
"Hundreds of people, most of whom are Indigenous or who live with a mental or physical disability, stay outside. Some sleep under blankets, some walk all night during the winter months to stay warm and hundreds stay in temporary shelters like tents," said Wiebe.
Article content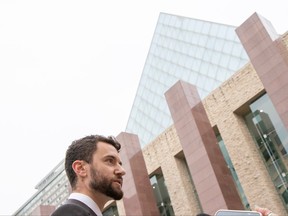 Creating housing is ultimately the solution
Sam Mason, president of the Coalition for Justice and Human Rights, said creating housing is ultimately the solution to the problem, but in the meantime displacement of unhoused individuals is only worsening the issue.
Both Mason and Wiebe said the concerns of people living in nearby encampments are valid but continually evicting people from encampments is part of the ongoing problem.
"When I hear from neighbours, I feel for you, I live in the inner city as well, but you get to go home to a warm bed at night and you get to lock your door. In the grand scheme of things, your patio furniture getting taken or destroyed is really small potatoes when you think about people surviving on the streets every day for years," said Mason.
Wiebe said when it comes to legal ground, they're primarily looking at precedents out of Ontario and British Columbia that say "it is a breach of people's Section 7 of the charter rights to life, liberty and the security of their persons to displace encampments or to prevent the erection of encampments when there's inadequate shelter space in the municipality."
He said they will be calling on the court to recognize the line of authority and introduce it into Alberta.
"We think we have some new and compelling arguments around right to equality, right to freedom of assembly and association and right against cruel and unusual treatment and right of personal property," said Wiebe.
The City of Edmonton has until Sept. 18 to file its statement of defence.

link