Users say National Defence is refusing to tell those trying to obtain information if and when the material will ever be released.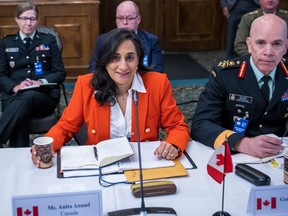 Article content
National Defence has changed the process of responding to access to information requests and is now ignoring legal requirements to notify applicants if and when records will be released, according to documents and complaints from the public.
Article content
The changes, the latest blow to the system that is supposed to promote openness and transparency in government, were recently brought in under Defence Minister Anita Anand, access to information users say.
A number of users of the access legislation, including former Canadian Forces members, contacted this newspaper to provide examples of National Defence repeatedly ignoring legal requests for information made through the access law or refusing to tell applicants if and when the material might ever be released. DND says it has not officially changed any of its practices under access laws.
Under the federal access law, members of the public can request government information by paying a $5 fee. That material is supposed to be released within 30 working days unless requesters are officially notified and provided with valid reasons for why more time is needed.
Article content
In one email obtained by this newspaper, a National Defence official processing access requests complained to a requester that various sections in the department and within the Canadian Forces had decided to ignore requests.
In a statement to this newspaper, the office of Information Commissioner Caroline Maynard confirmed she raised specific concerns on June 9 about the latest problems to hit access to information processing. Maynard's office noted that during the meeting the commissioner reminded government departments they are required to follow the law.
"The Commissioner is also very much aware of the issue of systemic delays and institutions not respecting the law," the statement on behalf of Maynard added. "She has been sounding the alarm for some time on this topic."
Article content
Anand's press secretary, Daniel Minden, noted that "providing Canadians with access to government records is a cornerstone of transparency and accountability, and a pillar of Canada's democracy. We recognize that the system needs to perform better."
The department's crackdown on releasing information to the public comes at a time when Anand is pushing for billions of dollars more for military spending.
Retired colonel Michel Drapeau, a legal expert on the access to information law, said department and military officials are ignoring the legal requirements because they are keen on controlling or limiting the amount and type of information that becomes available to the public.
"They don't want a lot of oversight or accountability on how money is being spent or how decisions are being made," said Drapeau, an Ottawa lawyer who has written a textbook on the access law. "And they face absolutely no consequences for simply ignoring the law of the land."
Article content
Drapeau said Anand should be held accountable for the failure of her department to follow the legislation.
National Defence spokeswoman Jessica Lamirande said there has been no official change in the way the department handles access to information requests. But she added that "we do acknowledge that the volume and scope of requests can sometimes lead to a lack of communication on our part."
The access law, which was hailed as ground-breaking when it was first enacted in 1983, has slowly been eroded, according to various government reports. In 2006, Prime Minister Stephen Harper came to power pledging more transparency and criticizing previous Liberal governments for excessive secrecy. But under his government, significant roadblocks were placed in the way of those using the law, according to various studies and accounts from that period.
Article content
Justin Trudeau also campaigned on promises of more accountability and transparency but critics say that under his government the access to information law has all but collapsed.
In a report to Parliament earlier this month, Maynard pointed out that "Over the course of my time as commissioner, I have observed the steady decline of the access-to-information system to the point where it no longer serves its intended purpose."
Maynard began her term as the information watchdog in March 2018.
Canadian special forces to lease new surveillance planes, but details shrouded in secrecy

Fast-track military space projects and have PM head new council for space priorities, industry group says
link