Former staff at the region's largest hospital are pushing for retroactive pay after Ontario's wage freezing legislation was found unconstitutional last fall, an entitlement current workers at the hospital already are receiving.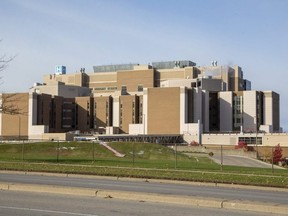 Article content
Former staff at the region's largest hospital are pushing for retroactive pay after Ontario's wage-freezing legislation was found unconstitutional last fall, an entitlement current workers at the hospital already are receiving.
While all unionized and non-unionized active employees at London Health Sciences Centre are getting the retroactive raises for 2020-22 that were dashed by Ontario's Bill 124 legislation, retired non-union hospital staff – or ones who left their roles for opportunities elsewhere – are not eligible.
Article content
"In the email the hospital sent out mentioning the end of Bill 124, they referenced the hard work that people put in," Brandon LeBlanc, a former LHSC pharmacist, said Friday.
"To be told 'We know you put in hard work. We know Bill 124 was struck down, but we won't include you even though everyone else is included' feels like a slap in the face."
After starting at the hospital in May 2020, LeBlanc left LHSC in August 2022 for an opportunity at another hospital. When Bill 124 was struck down by the court in November, and unions provincewide began negotiating retroactive pay for the years wage increases were frozen at one per cent by the Progressive Conservative government, he figured it would be a matter of time before he and other non-union retired and former LHSC employees were included.
"I worked during that time. I was heavily involved with helping COVID patients when I was working overnights. It wasn't a thought in my mind that I wouldn't get the retroactive pay," he said, estimating his retroactive pay would be anywhere from $5,000 to $6,000.
Another former LHSC staffer, who spent nearly a decade at LHSC before leaving in March, estimates he's owed approximately $6,000 to $7,000 in retroactive pay. The Free Press is not naming the former staff member, who is now working at another area hospital.
Article content
The provincial wage restraint law, Bill 124, launched in 2019 and capped public sector wage increases to one per cent per year for three years. The law applied to approximately 780,000 broader public sector workers including nurses and many other health care professionals.
The legislation was struck down as unconstitutional by the Ontario Superior Court in November as a violation of the Charter right to freedom of association. The Ontario government has appealed the trial court ruling, but a decision by the Ontario Court of Appeal has not yet been made.
In the wake of the Superior Court decision, many public sector unions revisited their agreements with employers, pushing for the pay increases they would have received in 2020-22 had the legislation not been in force.
While many workers at LHSC are represented by unions – including the Ontario Nurses' Association, Unifor and the Ontario Public Sector Employees Union (OPSEU) – others, such as pharmacists, are not.
Related Stories
Nine London hospital executives shown the door in restructuring paid $3M

Ford says he won't use notwithstanding clause to fight Bill 124 after court ruling
Article content
Current union and non-union staff at LHSC are receiving the retroactive pay, the hospital said in a statement Friday. All of LHSC's collective agreements outline that staff employed between 2020-22 also will receive the retroactive pay.
"We are currently evaluating retroactive pay for non-union staff who left LHSC prior to April 1, 2023," the hospital said.
The ex-workers who spoke to The Free Press said they previously had raised their concerns with human resources officials at LHSC but were told there is no immediate plan to extend the retroactive pay to departed non-union workers.
The issue is particularly pressing, LeBlanc said, because the retroactive pay covers pandemic years with intense working conditions that triggered burnout for some and pushed others out of the health care field.
"I know a few individuals who either left to go to another hospital, maybe they transitioned to Toronto to be closer to their family during the pandemic, or they retired. All those individuals are excluded from this (retroactive pay)," LeBlanc said.
The Bill 124 backpay issue for non-union former employees is not unique to LHSC.
SickKids in Toronto initially denied former employees the retroactive pay but reversed its decision amid public backlash. The hospital's nurses are not represented by the Ontario Nurses' Association.
Non-unionized former nurses at Markham-Stouffville Hospital are making a similar push for retroactive pay increases with Bill 124 no longer in force.
LHSC is one of London's largest employers, with more than 15,000 doctors, residents and employees.

link