Friends and colleagues are remembering London lawyer Claude Pensa as a giant in the legal profession with a big heart for community causes.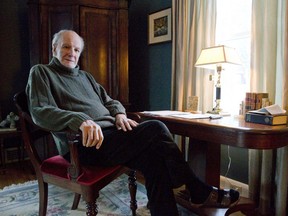 Article content
Friends and colleagues are remembering London lawyer Claude Pensa as a giant in the legal profession with a big heart for community causes.
The co-founder of London law firm Harrison Pensa, who retired from practice in 2013 after 57 years, died Sept. 13. He was 93.
Article content
"He really brought people together," said London lawyer Dan Mailer. "I was a Conservative candidate and he was a die-hard Liberal, but our political differences never mattered because, on a human level, we connected on so many things, like compassion for people."
Article content
Mailer was a young lawyer at a firm down the street from Pensa and Associates that later merged with Harrison Elwood to form Harrison Pensa in 1999. He knew Pensa had a strong reputation as a skilled litigator and asked for help on a major medical malpractice case in the late 1980s.
"I knew I was in a bit over my head on the case, so I called Claude to see if he'd work together with me on it. It was just a dream working with the guy," Mailer said of his co-counsel on the case. "There was never any air of him being the big guns coming in. He saw me as a young lawyer, took me under his wing and walked me through it."
Being a role model for early career lawyers was just the kind of person Pensa was, said David Williams, a former managing partner at Harrison Pensa.
"Claude established a legacy of advocacy and mentorship which now spans generations of legal professionals at the firm," he said in a statement Wednesday.
Pensa, a respected litigator who had argued in Canada's top court, had a long list of other career accomplishments.
In 2007, he was awarded the Law Society Medal, an annual award given by the Law Society of Ontario to recognize lawyers who have demonstrated distinguished service and commitment to the highest standards of the profession.
Article content
He received an honorary doctorate in laws from Western University in 1998, an honorary diploma from Fanshawe College in 2016 and was inducted into the London and District Business Hall of Fame in 2018.
But his impressive professional resume is not what his friends and colleagues revere most, Mailer said.
Related Stories
2018: Respected lawyer Claude Pensa added to London's business hall of fame

2014: London lawyer Claude Pensa reflects on nearly six decades in the law profession
Pensa and his wife Elaine founded London Lawyers Feed the Hungry in 2003. The group has raised more than $500,000 for hunger relief programs in the city since it began. He contributed to the arts and was generous with his time on causes that were important to him, Mailer said.
"Claude's dream was to eradicate poverty and use whatever tools we had at our disposal to reduce suffering and hunger. Even though Claude is gone, his dream goes on," Mailer said.
Pensa's reputation as a litigator and community builder earned him respect among lawyers at rival London firms, said Janet Stewart, a partner at Lerners.
Article content
"There would be no bad things said in our firm about Claude Pensa," she said. "For anybody who commanded the respect that Claude did from his peers in the profession, the fact that we're in different firms shouldn't make a difference."
Stewart got to know Pensa more when she was in a book club with his wife. He was a "wonderful lawyer and a wonderful person" who had diverse interests and fascinating stories to tell.
"He had a terrific sense of humour," Stewart said Wednesday. "He was very thoughtful, very smart. He was very proud of his Italian roots and very much a part of the Italian community in London."
The son of Italian immigrants, Pensa was born in London and attended the University of Western Ontario. He received his law degree at Osgoode Hall in Toronto and returned to London, where he began practising law in 1956.
Pensa is survived by his four children and nine grandchildren.
A private family visitation and funeral are taking place with a public memorial on Sunday at Museum London from 2 p.m. to 5 p.m.

link