The Legislative Yuan yesterday passed proposed amendments to a gender equality law that aims to protect the rights and interests of victims of sexual harassment in educational settings.
The updated Gender Equity Education Act (性別平等教育法) comes in the wake of the recent #MeToo movement in Taiwan that has been spurred by sexual misconduct allegations against figures in the political field, as well as in wider society.
The amended law stipulates that it is unlawful for educators to engage in a intimate relationship with students younger than 18.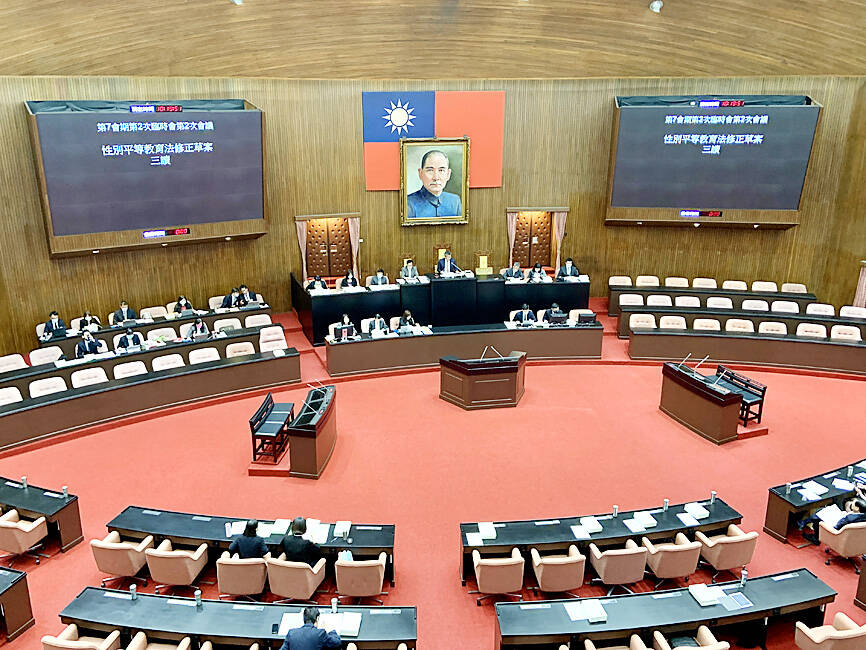 Photo: Tu Chien-jung, Taipei Times
Although such relations are not automatically against the law if the student is an adult, the intimacy must be consensual and not established through an abuse of power.
The amendment also applies to cadets in police and military academies, students in preparatory schools and juvenile reformatory schools, as well as those doing internships.
The Ministry of Education said it would formulate guidelines to help schools better understand the revised law, as some educational institutions have complained that the specifics regarding "student-teacher relationship" are not clear enough, especially in tertiary education.
The guidelines would hopefully help schools draw up their own ethical standards, and help ensure safe and gender-friendly campuses, the ministry said in a statement.
Based on the amended law, a school cannot use its position of authority to punish victims of sexual harassment who report what happened to them, or anyone who assists in reporting or requests an investigation on someone's behalf.
When a complaint of sexual harassment is received, the school must set up a team to look into the case, but if the accused perpetrator is the principal or a teacher, the investigation would have to be completed by an outside party to guarantee impartiality.
School principals and educators who, without justified reasons, fail in their obligation to report an incident of sexual harassment within 24 hours, or deliberately conceal such acts, would be fined between NT$30,000 and NT$150,000.
If the victim is not satisfied with the investigation results, he or she may apply to the school or other competent authorities for another investigation within 30 days after receiving the results of the initial probe.
School principals or teachers who abuse their power and sexually harass their students would not only face compensation lawsuits, but also a bill for punitive damages.
The updated act is to be promulgated on International Women's Day on March 8 next year.
Meanwhile, cross-party negotiations on amendments to two other laws relating to gender equality — the Act of Gender Equality in Employment (性別工作平等法) and the Sexual Harassment Prevention Act (性騷擾防治法) — are not yet complete, but would be put to a vote on Monday, the last day of the legislative extraordinary session.
The Taiwan Youth Association for Democracy in a news release yesterday affirmed the amendment's demand that gender equality committees at all government levels include student representatives.
However, local governments might have difficulties locating student representatives or lack relevant regulations, it said, suggesting that the ministry draft enforcement rules or issue official guidelines.
Ministry of Education Department of Student Affairs and Special Education Director-General Wu Lin-hui (吳林輝) said that the passage of the amendment would require that the ministry amend at least seven ancillary laws, which the ministry hopes to complete and promulgate within six months.
Regarding student representatives, Wu said that the ministry would speak with local governments to gain an understanding about their plans for establishing gender equality committees.
Wu urged the public and other concerned parties not to worry and assured them that the ministry would thoroughly discuss how such committees would be formed and how they would function during subsequent meetings.
Comments will be moderated. Keep comments relevant to the article. Remarks containing abusive and obscene language, personal attacks of any kind or promotion will be removed and the user banned. Final decision will be at the discretion of the Taipei Times.
link