Alberta's United Conservative government has taken a combative approach in recent months to federal gun policy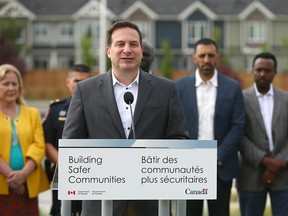 Article content
The federal Liberal government says it will try to work with Alberta in implementing tougher gun control laws, but stresses it ultimately has jurisdiction when it comes to bringing in new firearms regulations.
Article content
Federal Public Safety Minister Marco Mendicino says collaboration is the preferred path forward on implementing legislation that seeks to make a national handgun freeze into law and ban "assault-style" weapons it deems inappropriate for civilian use. But he says his government won't hesitate to move forward on the file itself even in the face of opposition from provincial governments.
Article content
"It is well-established now for over two decades that when it comes to firearms regulation, that falls within the domain of the criminal law and by extension, the federal government. And the Supreme Court of Canada determined that over 20 years ago," Mendicino said in a Wednesday interview with Postmedia.
"Notwithstanding that, all levels of government have to work together and there is no going it alone when it comes to keeping our community safe. So I'm committed to working with my counterpart here in Alberta, Mike Ellis."
Mendicino said he believes he's built a good working relationship with Ellis, the former Calgary Police Service officer who now serves as Alberta's Public Safety Minister and deputy premier.
Article content
But Alberta's United Conservative government has taken a combative approach in recent months to federal gun policy. That includes intervening in several lawsuits charging the proposed firearms regulations are non-constitutional, and saying it would require a provincial licence for any gun seizures in Alberta, a licence the UCP would be unlikely to issue.
'Guns and gangs': Tsuut'ina Nation gets federal cash for gang suppression

Western premiers disappointed by delay to federal bail reform on repeat offenders

Alberta to require provincial licence for gun seizures

Alberta intervening in federal laws targeting firearms
The firearms legislation has faced criticism from several groups, including hunters and some First Nations, with worries that legitimate gun owners could be targeted.
That's not something Albertans need to worry about, Mendicino argued.
"We respect gun owners and we're gonna spend a lot of time right across the country, in rural and border communities, to address concerns around inadvertent overreach," he said.
"I think what we've done is we have, with a scalpel, carved out those guns which have no place in our communities, including AR-15 style assault rifles, which have been used in historic and awful tragedies like in Portapique and Truro (during the 2020 Nova Scotia mass shooting). And I think there is a broad consensus among Canadians that they want to see responsible gun control laws."
Article content
Gang prevention funding doled out for Calgary, Tsuut'ina
Mendicino was in Alberta this week to announce funding for community gang prevention programs in Calgary and on the neighbouring Tsuut'ina Nation. It's part of a slew of federal government announcements in the region in recent days as cabinet ministers flock to Calgary for the political side of the Stampede.
Both funding envelopes come from the $250-million Building Safer Communities Fund unveiled by the Liberals last year, which gives money to municipalities to distribute to community groups that aim to address underlying conditions which lead to crime and gang activity.
The $7.7 million for Calgary is going to community groups including the Highbanks Society, which provides housing for vulnerable young mothers. It's money CPS Supt. Asif Rashid welcomed, expecting it will pay dividends for crime rates in future years.
"We have a strong conviction that every child has a right to live a life that's free of crime and victimization. We believe the funding that's been announced today is going to be emblematic of the adage that an ounce of prevention is better than a pound of cure," Rashid said.
Article content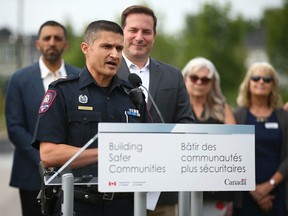 The Tsuut'ina funding totals $1.1 million, meant to help deal with a sharp increase in crime, particularly involving guns and gangs. The severity of crime hasn't increased, Tsuut'ina officials said at a Tuesday announcement, but the volume of calls has tripled over the last three months.
The program model, which will give Tsuut'ina jurisdiction to choose how to disperse the funding, helps ensure the approaches to combating crime on the reserve are Indigenous-led, Mendicino said.
"They're worried about losing their young people to crime and violence," he said. "The way to turn that around is by empowering the community to create programs that are rooted in First Nations culture and history."
Calls continue for federal bail reform
Nationwide calls have increased in recent months for federal changes to Canada's Criminal Code in order to tighten the country's bail system to prevent the release of violent criminals deemed likely to reoffend.
Bail reform is an issue that has the support of all 13 premiers as well as law enforcement agencies like CPS and police unions.
Article content
But Ottawa has been slow to move on the file, with the Liberals introducing a bill on bail reform this spring which didn't make it past second reading before Parliament rose for the summer last month.
Mendicino maintains that his government's bail reform bill will work to prevent violent offenders from committing further crimes while awaiting trial.
"(Bill C-48) is a very strong piece of legislation because it focuses on repeat violent offenders who pose the greatest risk to our communities and ensures that courts make the right decisions when it comes to detaining them," Mendicino said. But he added that legislation shouldn't be looked at as a panacea, stressing crime prevention and tougher borders as elements his ministry is focusing on.
"We have to come back to preventing these tragedies from occurring in the first instance."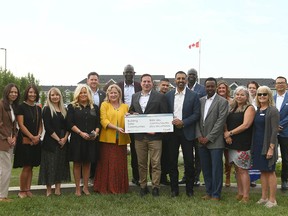 On Wednesday, the RCMP's union repeated its calls for bail reform, criticizing what they characterize as a "catch and release" system which sees bail granted without sufficient supports or monitoring.
It's action National Police Federation president and CEO Brian Sauvé said needs to happen on an accelerated timeline.
"Repeatedly responding to calls and arresting the same individuals repeatedly has a significant negative impact on members' morale and overall well-being," Sauvé said in a statement.
"Governments can better direct police efforts toward crime prevention, community engagement, and other important proactive policing responsibilities by urgently implementing smart bail initiatives."
Twitter: @jasonfherring

link