Alex Toffoli was commenting about a client struggling with homelessness and mental health while committing crimes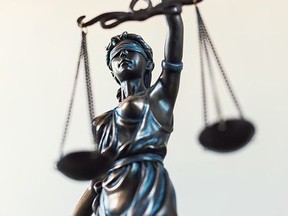 Article content
A Sudbury man who attacked a security guard at a bank branch and damaged doors and a vehicle over the past year was homeless and struggling with mental health issues at the time.
Article content
In Sudbury court, he was given a time-served sentence.
Article content
"The marriage between criminal law and mental health is not a good one at times," defence lawyer Alex Toffoli said about his client, Anthony Calhoun. "Sometimes, people are not stable and this is what it is."
Calhoun, 38, who had been in custody for 51 days, received pre-trial custody credit of 77 days. As a result, Ontario Court Justice Pierre Bradley issued a one day jail/time served sentence and an 18-month probation order.
The sentence had been suggested in a joint sentencing submission.
"Are you getting some mental health help," the judge asked Calhoun.
"I'm working on that," answered Calhoun.
"It's important for you to follow the probation order," Bradley told Calhoun. "One of the things I tell people is that you should be seeking counselling. The probation officer will help you."
Article content
"I'm actually right with the counselling," said Calhoun. "It really works for me. It has done wonders for me."
Calhoun had pleaded guilty to assault, two counts of mischief under $5,000, breach of probation, theft under $5,000, breach of release order, and damaging property.
The charges dated back to Dec. 14 of last year and ran through to Aug. 23 of this year.
The probation order includes conditions that Calhoun takes treatment, in particular, for psychiatric and psychological issues. He cannot possess weapons, must stay out of three South End businesses, and have no contact with several people associated with the offences he committed.
Bradley also issued a DNA order and stand-alone restitution orders of $1,182.39 to the TD Bank for the damage to doors Calhoun caused, and $2,477.58 to the Greater Sudbury Housing Corporation for damage caused to a door mechanism at Rumball Terrace.
Article content
Bradley did not issue a three-year weapons ban as the Crown requested, as Calhoun is already serving a 10-year ban.
"I just want to thank you, your Honour," Calhoun told Bradley just before being sentenced. "I wrote some paperwork while in jail. On your own time, you can read it."
Calhoun also indicated he will be staying with a friend upon his release.
Charged at security guard
The court heard that about 2:40 p.m. on Dec. 14 last year, Calhoun visited the TD branch on Paris Street. Calhoun became disruptive, began yelling at staff and kicked a door, causing damage.
On Dec. 21, Calhoun returned to the branch and was told to leave as he had been terminated as a customer. As he was being led out, Calhoun angrily yelled at the security guard and charged at him.
Article content
He then told the security guard that if he touched him, "I will knock the turban off your head … I will kick your a.. off."
From Dec. 1, 2022, to Feb. 9 of this year, Calhoun did not report to his probation officer. On Jan. 3, 2023, he did not report to the Elizabeth Fry Bail Supervision Program as ordered.
On Feb. 26, Calhoun was in the Canadian Tire store on Regent Street when he attempted to steal a screwdriver set. A security guard managed to get it away from him.
About 6:40 p.m. on March 14, Calhoun and another man attempted to get into a building at Rumball Terrace on Paris Street. They damaged the door mechanism residents use to enter to get in.
Calhoun was in the building for about 40 minutes and then left. Surveillance video captured what happened.
Article content
Then about 8:45 a.m. on Aug. 2, Greater Sudbury Police officers were approached by a man who had witnessed another man kicking in a passenger door of a Mazda parked in the downtown area.
The kick produced a major dent.
The witness identified Calhoun, whom officers arrested while he was walking through Memorial Park.
In his sentencing submission, Toffoli said Calhoun is dealing with an acquired brain injury and local Canadian Mental Health Association staff is assisting him.
"He is basically homeless," said the lawyer. "This exacerbates people's mental health. They are not getting their medication. They have no support and just wander on the streets …
"He needs a place to live."
Toffoli added that Calhoun's ability to pay the two stand-alone restitution orders is "absolutely zero" due to being unable to work.
As a result of the seven guilty pleas, the Crown dropped other charges Calhoun was facing.
Twitter: @HaroldCarmichae
link