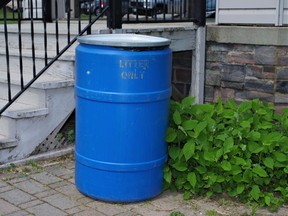 Article content
Jason Newman, the Village of Sundridge's By-Law Enforcement Officer, says more local residents are now complying with the municipality's Waste Collection By-law following an awareness campaign during May.
Article content
The education program highlighted the need for residents to cover their trash containers when putting them out for weekly pick-up to prevent rodents and other animals from getting to the waste in addition to avoiding flies and to keep  odours inside the containers.
Waste collection day in the Village is Wednesdays and Newman said an increasing  number of residents were putting their garbage in containers without lids in addition to others placing black garbage bags at the curb.
"Ravens, crows and other animals were getting into the uncovered containers," Newman said, adding the loose garbage bags were also torn apart by wildlife in an effort to get to the waste food inside.
"Main Street is the one street everyone sees.  You have children there walking to Sundridge Centennial Public School and in some cases they're walking through scattered waste.  It's not pleasant for anyone in the community to see this."
Article content
Newman adds the municipality also had several instances late in 2022 of a "population of bears coming through the Village" looking for food which increased the risk of human contact with large wildlife.
Newman said there has been limited enforcement of the waste bylaw in the past because complaints were minor and easily addressed but that changed as the non-compliance number grew. Newman suggested the education program to council which included a letter to  residents reminding them of the bear issues last fall and a social media campaign explaining why garbage containers needed to be covered.
Newman said although the overall response to obeying the by-law has been positive, there are some residents who are still not complying with it which he will next address.
Article content
"With a lot of the problem now eliminated, I can follow-up with people individually which is easier since it's a lesser amount."
Newman says it's "not his job to catch people" breaking the garbage law, "it's to get compliance".
That's why a fine under the Provincial Offenses Act for repeat offenders is the last step.  
He will talk to repeat offenders and encourage them to comply adding when everyone is on the same page, "it makes for a cleaner community and creates pride in the community".
The fine for non-compliance is $100. In a report to town council, Newman says some property owners may find issuing a fine excessive. But he says the alternative is to do nothing which will result in more complaints because the situation will escalate.
Newman says prior to the education program, some community members would do their best to clean up the garbage that wildlife got inside the bags.
But for the most part it's been the town workers on collection day who pick up the mess.
"That's an unneeded use of our resources," Newman said.
link