Lawyers are curious as to how the government's proposed law would affect situations where separated parents disagree, or where one parent has lost decision-making authority.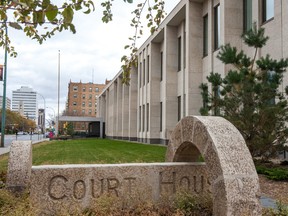 Article content
The Saskatchewan government's recently-introduced Parents' Bill of Rights is causing some in the legal community to question how it might affect family law matters.
With the proposed law being released less than a week ago, lawyers not involved in its drafting have only just begun to study it.
Article content
That said, some like Beau Atkins are already feeling unease.
"I am concerned this new legislation will set family law in Saskatchewan back years and serve only to escalate conflict between squabbling parents," wrote Atkins, a family lawyer with Evolve Law in Saskatoon, who clarified his comments were focused squarely on legal implications, and were not intended to touch on the political, philosophical or ideological.
Article content
The government's proposed new law would grant or affirm parental controls over a number of aspects of a child's education experience, including whether a student under age 16 can be referred to by a preferred name and pronoun in a school setting.
It also covers areas such as power over what courses a child enrols in and the right to stop the child from attending presentations about sexual health.
Courts often have to wade into family matters, when disputes arise. In family law, a lawyer's client is a parent. However, the court is focused on the best interests of a child, Atkins stated.
Atkins, who made comment via email due to being out of country, said he's spent his entire career advising his clients they have no rights in this regard.
"Separating parents often struggle to see things from their children's perspective, blinded by their own emotions and conflict," he wrote.
He went on that he'd be interested to know what consideration was put toward understanding how the law would affect "parenting situations which involve separated parents who are already struggling to work together."
Article content
He wrote that while he's sure that notion of parental rights has positive origins, he believes it creates a "harmful and distracting discourse."
Related Stories
Moe's criticism of judge undermines trust in justice: law professor

Debate on Saskatchewan pronoun policy bill set to last 40 hours
Kathleen Peterson, a lawyer with Regina firm Gerrand Rath Johnson, was clear that she would not "opine on the correctness of the legislation."
However, her cursory understanding of the government bill left her with some questions related to her profession.
The proposed law states "a parent or guardian" has the right to "act as the primary decision maker with respect to the pupil's education."
She assumes that means both parents, where there's a case of joint decision making responsibility ordered by the court.
As to pronouns, she said: "that very much could be a subject of disagreement between separated parents, right? And of course, the child has to go back and forth between those two households. So that puts the child in a difficult position."
"And ultimately, they could end up in front of a judge who will have to decide how is this child going to be treated," she said, suggesting that this will likely be no small task for the court.
Article content
Upon her initial glance at the proposed law, she said she didn't think that it would clash with existing legislation like the Children's Law Act, though certainty on that would require further investigation.
However, she wonders what implications the proposed law might have for situations where one parent has been stripped of all or some of their decision making authority by the court, and whether, through the Parents' Bill of Rights, some authority could be restored to that parent, with regard to their child's education.
"I'm anxious to see the first case," she said.
link