To print this article, all you need is to be registered or login on Mondaq.com.
I am the son of Mexican immigrants who, like so many others,
came to the United States in the early part of the last century
seeking a better life for themselves. I grew up in Los Angeles, a
product of its public schools, and was fortunate enough to attend
college and law school with substantial financial assistance from
those schools.
Unlike a number of my peers, who knew early on that they wanted
to be a lawyer, I made that decision after I had graduated from
college, thinking it was a good option to develop a career in law
or some other profession, even though I had never met a lawyer or
even a judge. I have never looked back.
Over the years, first as an attorney and later as a judge, I
have been committed to building a pipeline to the legal profession,
starting with children in middle school and continuing into their
college years. Hispanics are significantly underrepresented in the
legal field, and in order to change that, it is crucial that we
bring awareness of opportunities in the legal profession to
students at an early age. One startling statistic is that 38% of
the California population is Hispanic/Latino, yet only 6% of the
attorneys in California are Hispanic/Latino. Of course, there are
many reasons why minorities and people of color are
disproportionately underrepresented in our profession, but that
should not deter us from taking these first steps.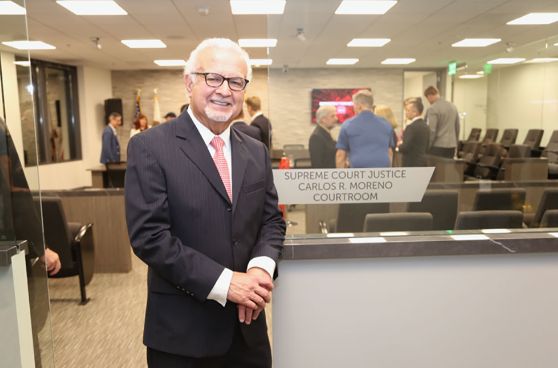 The Justice Carlos R. Moreno Courtroom pays tribute to Justice
Moreno's remarkable 25-year career, marked by over 140
precedent-setting majority opinions.
It is undisputed that diversity in all aspects of our justice
system is essential in building trust and confidence in that system
and that such representation adds to the appearance as well as the
substance of fairness and due process. The benefits for society,
our global economy and the development of future leaders in the
public and private sectors are obvious.
Pipeline programs are the key to diversifying the legal
profession. They provide foundational knowledge about what lawyers
do in the broad arena of the law; they offer direct access to
lawyers and judges as mentors; they enhance lawyerly and
test-taking skills; they open access to internship and financial
aid opportunities; and they provide overall academic support to and
build confidence in participants in the programs.
Throughout my career, through my service on various boards and
equal access commissions, I have had the privilege of witnessing
various programs and initiatives that actively support the
advancement of diversity within the legal profession. My hope is
that these examples serve as not only inspiration but also a guide
for others who want to foster diversity in the legal field:
JAMS Diversity Fellowship Program: As part of our commitment to
increasing the pool of diverse neutrals, JAMS offers training,
mentorship and sponsorship opportunities to aspiring alternative
dispute resolution (ADR) professionals from diverse backgrounds. In
addition to increasing opportunities in dispute resolution, the
fellowship also assists with diversity recruitment in key JAMS
markets.




Diversity pledges: JAMS partnered with other ADR providers to
support diverse neutrals through the signing of the Ray Corollary
Initiative (RCI) Pledge. The initiative encourages ADR providers to
include at least 30% diverse neutral candidates and drive
accountability by tracking selections from those slates or
rosters.




Affinity bar associations: JAMS actively supports numerous
affinity bar organizations. These organizations seek to improve the
business opportunities available to their members by publicizing
job opportunities in the private and public sectors, as well as by
supporting member efforts to be appointed to serve in the
judiciary.
In addition, I am honored that MLG Attorneys at Law recently
named their state-of-the-art mock courtroom after me. The grand
opening of the Justice Carlos R. Moreno Courtroom will foster
collaboration, diversity and the highest standards of legal
advocacy within the legal community, which is something I am
passionate about. This cutting-edge facility will allow attorneys
to refine trial strategies with the goal of more effectively
representing clients. I'm proud to have my name on this Costa
Mesa, California facility.
I often reflect on my path in the legal profession: starting as
a deputy city attorney, working in private practice and then
serving on the judiciary for 25 years. Certainly, I received much
advice and timely assistance in the process. But there is no
question in my mind that I would have been better informed and
greatly benefited from the kinds of legal pipeline programs that
seek to build a path to greater diversity in our legal
profession.
The content of this article is intended to provide a general
guide to the subject matter. Specialist advice should be sought
about your specific circumstances.
POPULAR ARTICLES ON: Litigation, Mediation & Arbitration from United States
link